Pastor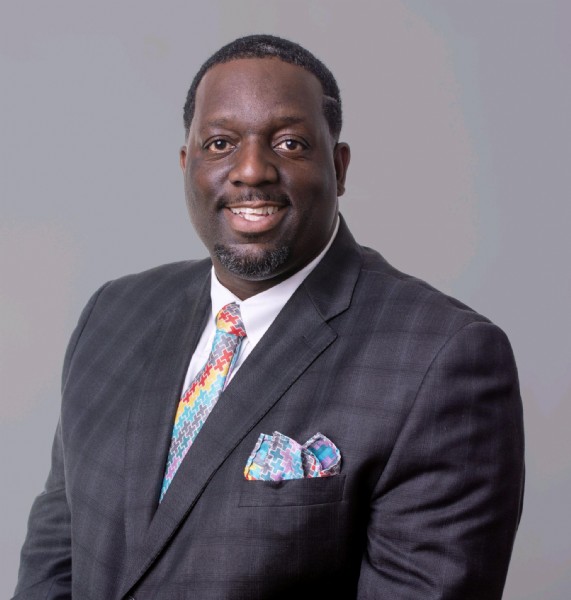 Welcome Message From Lake Elam's Senior Pastor
Greetings,
Please allow me to personally welcome you to the Lake Elam Missionary Baptist Church's website.  We are excited you are here!  I'd like to introduce myself to you.
I was born in Birmingham, Alabama.  I grew up in a single parent household.  However, because of the nurturing, love, and compassion of my dear mother, Mrs. Queen Jeffery; you would never know it.  At the age of eight, I was adopted by the late Mr. Billy Jackson.  My grandfather, Jimmy King, had three brothers who were preachers and my brother, Rev Robert L. King is also a local pastor.
The lovely bride is Dena Jackson and this union has blessed us with three jewels: Keyana, Lamarius, and Gabrielle.
I was baptized at an early age at Mt. Zion Missionary Baptist Church in Elmore, Alabama, under the leadership of Pastor B. E. Moss and preached my first sermon in May 2005. While at Mt. Zion, I served as a youth leader and I have been active with the youth at the Wetumpka YMCA for many years. 
I am a graduate of Wetumpka High School.  Higher educational pursuits resulted in an Associate's Degree in Liberal Studies, a Bachelor's Degree in Bible Ministry, and a Master's Degree in Business Leadership and Management.
I served as Pastor of Morning Star Baptist Church in Lowndesboro, Alabama, for nine years and it is my great pleasure to serve God as Senior Pastor of Lake Elam Missionary Baptist Church, Millbrook, Alabama. Our church family is composed of some of the friendliest people you would ever hope to meet. 
We are a Bible-believing, Bible-teaching, Bible-preaching and Kingdom-minded Baptist church.   We take seriously our commitment to "Exalt the Savior, Equip the saints, and Evangelize the sinner."  Accordingly, we offer numerous opportunities each week for worship, fellowship, discipleship, evangelism and ministry programs for our members, regular attendees and guests to connect with God and other believers, to grow in Christ's likeness, and serve God. 
We are to be safe in light of the virus and are taking measures to ensure the safety of all of our members and visitors. Masks available for all and weekly disinfecting is completed. 
We invite you to partner with Lake Elam Nation. Please SUBSCRIBE on our home page to our mailing list so that we can connect.  Partner with us as we would love to communicate with you. With a seed of $50 or more, you will receive a weekly voice message or text of encouragement.  As we continue to cover you in prayer, you will also receive a monthly update.  We look forward to getting to know you, covering you in prayer and providing an encouraging Word and information.
Please sow your seed on the Givelify App: TAP GIVE DONE
Download the Giftlify App for free, Tap My Place of Worship, Tap the Give button, Tap amount, Select Envelope, Tap Give Now, Create your Account and Enter payment info!
OR mail seed to:
Lake Elam MB Church
PO Box 816
Millbrook AL 36054
For His Kingdom,
 Gary L Jackson, Sr
Senior Pastor
Lake Elam MB Church